The ICAO SWIM concept (ICAO Doc 10039) chapter 3 introduces a five-layered SWIM Global Interoperability Framework to describe the sharing of information via SWIM, the scope of SWIM being limited to three layers and related governance: Information Exchange Services, Information Exchange Models and SWIM Infrastructure. FIXM is one component belonging to the Information Exchange Models layer.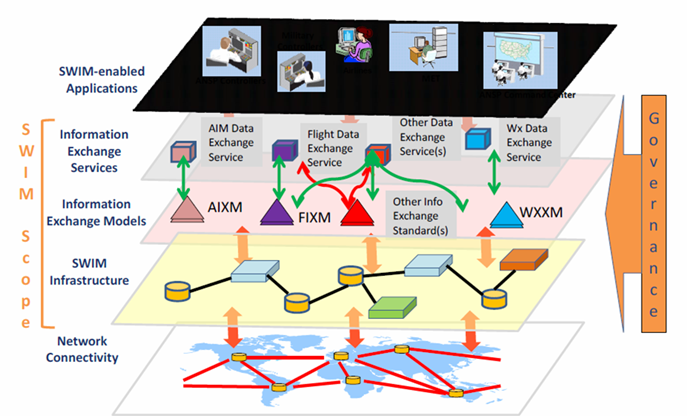 FIXM only gives identification of, and provides standardisation for the content of, the information elements that the stakeholders need to exchange at various times, according to FF-ICE. Practically, FIXM supports the content of the individual ATS message fields described in ICAO Doc 4444 and the new flight data items identified by ICAO ATMRPP as part of the requirements for FF-ICE. FIXM v4.0.0 onwards also incorporates a new messaging package for enabling the creation of the FF-ICE Block 1 messages as described by ICAO ATMRPP.
Note: the FIXM v2.0.0, v3.0.0 and v3.0.1 content expanded beyond what ICAO FF-ICE currently prescribes. Per ATMRPP ruling, the FIXM v4.0.0 content was revised in order to retain only the pieces of flight information traceable to ICAO requirements (ICAO Doc 4444 and draft FF-ICE Block 1 requirements). As a result, some capabilities previously enabled by FIXM are no longer supported in FIXM v4.0.0.